On Tuesday night, April 26th, I attended the launch event of #ABIdotlocal in Amsterdam. It was hosted by Google Netherlands and Rose Robinson, Senior Manager from the Anita Borg Institute, was guest of honour, having come all the way from Atlanta, GA.
Rose gave a very motivating keynote on the role of local communities in empowering women in tech. She stated that "being the only woman all the time" can be a massive problem, which is why events like the Grace Hopper Celebration of Women in Computing, the world's largest gathering of women technologists with more than 12,000 women attending, are so important.
The evening had been opened by Iffat Gill. She's the CEO and founder of ChunriChoupaal/The Code To Change. Her talk was called "Digital inclusion: the importance of e-skills training for economic empowerment". Iffat will be heading ABI.Amsterdam together with Diana Eggleston and Mine Ogura.
After another Keynote by Maya Tudor, Tech Scholarships Program Manager, EMEA, Google on "The role of the tech industry to address inclusion and retention of women", the "Empoweress" Mine Ogura, Head of Delivery of Marktplaats (eBay Classifieds Group NL), gave a very energetic workshop on "Cracking the Code".
The official programme was closed by Coach, Trainer and Speaker Amber Rahim. Her workshop "Overcoming Imposter Syndrome" was full of insights and provided a lot of great takeaways for the audience.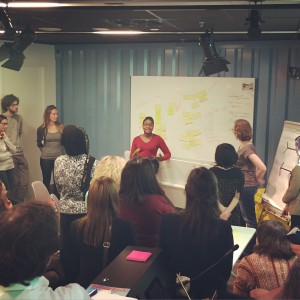 It's been a fantastic event with a very diverse network. All of the attendants were utterly devoted to their professions as well as to the cause of women in tech. It has been an enormously supportive atmosphere and I'm very proud to be an ambassador for those projects.
If you are a woman and you are interested in coding and the technological side of the digital transformation, get in contact with organizations and initiatives like The Code To Change or ABI.local. It is more than worth it. I am looking forward to seeing those networks flourish and I'll be doing my best to support this development.