Author: Robert Franken (blogger and digital consultant)
I live in Cologne, Germany. After the incidents around the central station on New Year's Eve, which have been widely commented on under the hashtag #koelnhbf, I'm still trying to come to terms with what has happened and how the debate has unfolded. The newly elected mayor's concept of #armlaenge ("at arm's length") can't be the solution to a problem that had long been ignored and that has s got nothing to to with refugees and migrants in the first place: I'm talking about every-day sexism and sexual violence against women. My perspective is a male one and I would like to describe what's making me so uneasy.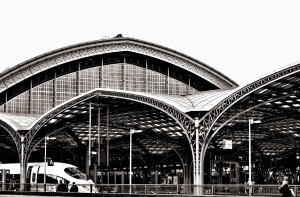 I'm heading home from, let's say, from a night out with friends, strolling through a quiet part of town, and I'm walking behind a woman. She's a bit slower than I am and I'm slowly catching up. And all of a sudden, I realize how uncomfortable she might be feeling. So I'm beginning to walk a bit slower, adding some distance between me and her. But yet again, since this is a deliberate decision, I'm getting the feeling of being somehow manipulative. It's a dilemma.
Respecting inter-human boundaries has always been very important to me. A flirt turned into something more intimate only if I could be absolutely sure that I hadn't misinterpreted anything. Thus, I definitely missed a few opportunities for having been a bit… slow. But it was because I didn't want to take chances.
It's a quote by Margaret Atwood that, in my opinion, sums up the whole problem:
"Men are afraid that women will laugh at them. Women are afraid that men will kill them."
It was only recently that I fully realized what it could mean for a girl or a woman to go home with a guy. It had never occurred to me that it would be a problem the other way round. Of course it didn't, for I wasn't exposed to any risk of being forced into something against my will. That's a male privilege. And it's utter discrimination against women.
Is there any rule of thumb? Probably not. But there has to be something men could use as orientation. "No means no" (#neinheisstnein) is the slogan behind a movement for a stricter law against sexual violence. It should definitely be supported. But to me, it's not strict enough for a respectful interaction of human beings for it is too abstract for every-day human encounter.
Being a heterosexual man, as a matter-of-fact, I just don't expect any woman to wish for me getting any closer to her. It's a precondition, a rule. If she does, however, I'd need pretty damn obvious signals from her. And in order to interpret them correctly, I'm gonna need a whole lot of sensitivity and empathy. Even more so, if these signals are non-verbal.
Respect while flirting also means that you just don't seize every single opportunity for an erotic adventure. What's wrong about a decent flirtation? It's not about finishing a task all the time.
Back to my nightly way home. I was often close to speaking out to the women in order to signal them that I wasn't being a threat. But that could have turned out as an all-too obvious attempt to chat up, so I kept quiet.
Meanwhile, in situations like the one mentioned above, I'm trying to keep a distance. If necessary, I'm switching to the other side of the street. Why? Because it's not a big deal for me, but it might make a difference for the other person involved. I've even started whistling or humming a song once – and I can't really sing. I just don't want to scare anybody by any means.
Am I being paranoid? Maybe a little. But do you get what I'm trying to say?
The fact that there are services like a telephone hotline where they literally walk you home at night is proof that there is a constant potential threat (to women) out there. And no: I don't think I'm not victimizing women when I say this.
It means that my uneasiness of being recognized as a potential threat, is by far the least important problem here. It's the women who face the threat; who permanently have to feel their freedom and their physical and psychological integrity being at stake.
I hate that. And I want to help changing this. I'd like to be part of the solution rather than being part of the problem by being a man. This may sound a bit over-sensitive, but we can't take a chance here. In times of every-day sexism and massive violence against women, it is strictly necessary to become an asset in this particular issue. Will you help making that change?
I am a supporter of #HeForShe, and so is Male Feminists Europe. We need to join forces and make sure that every man is carrying this kind of sensitivity into his personal and professional life. Is more necessary than ever.